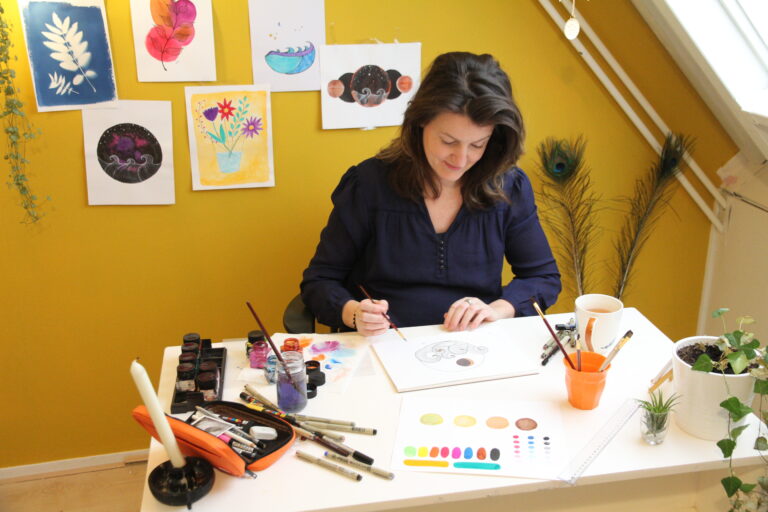 Hoi! Ik ben Natasja. In mijn creatieve studio in Groningen maak ik illustraties en art producten met een sprankje magie. Mijn hoofd bruist altijd van de creatieve ideeën en als mijn energie het toelaat, probeer ik al die ideeën een vorm te geven. Het is heerlijk om te creëren en te zien wat er onder je eigen handen ontstaat.
Verhalen in lijnen en letters
Ik wil mooie dingen creëren en daarmee een verhaal vertellen. Over levenslessen, onuitgesproken verlangens, taboes, maar ook over magische kleine dingen die het leven zo mooi maken. Dit doe ik door te tekenen, te schilderen en te schrijven en al deze creaties met jou te delen, zodat jij er ook van kunt genieten en je erdoor kunt laten inspireren.
Creatieve focus
Vroeger kon ik uren achter elkaar tekenen of schilderen en dan volledig de tijd vergeten; de hyperfocus. Ik "ontwaakte" pas weer als ik koud en stijf was van het lange zitten in één houding. En dan genieten van het resultaat. Mooie tijden waren dat.
Tegenwoordig is het een uitdaging om me te concentreren en te ontspannen, doordat ik een enorm druk ADD-hoofd heb en nogal hooggevoelig ben. Maar als ik teken, schilder of schrijf, dan kom ik tot rust en voel ik me het meest mezelf. 
Ga maar kijken
Kijk lekker rond op mijn site en in de webshop en laat je verwonderen. Heb je vragen of wil je graag dat ik iets persoonlijks voor jou maak? Dat kan! Neem gerust contact met me op, dan kijken we samen verder.